From entrance chaos to harmony at Nordens Ark
Reading time: 4 minutes
Here you can read more about the cooperation between Visit Group and Nordens Ark. It has led to:
Nordens Ark's guests can book and buy their entire experience in one flow and one shopping basket with Visit Group's help
Visit Group's seamless online flows help reduce queues in the hotel, entrance and park
Nordens Ark can spend time on the right things, when Visit Group makes sure all the technical systems talk to each other
---
How Visit Group strengthens the customer journey for Nordens Ark's guests, both in the park and online.
Nordens Ark is the zoo with the great mission of preserving endangered animals and biodiversity. As a fundraising foundation, there is a requirement to invest every penny on the right things. A few years ago, digitalisation had lagged and the customer journey was anything but smooth.
Before the visit, guests had to go to different channels to book entrance tickets, hotel stays and guided tours. Sales required a lot of manual handling.
QR codes have replaced plastic cards
When the partnership with Visit Group started, the first step was to develop a single solution for all e-commerce. Guests can now book and pay for entrance tickets, memberships, hotel stays and various activities in a single shopping basket. Guests now receive QR codes as value vouchers, instead of physical tickets and plastic cards, and the purchase is then handled seamlessly under 'My Pages'.
"We have made a great digital journey together with Visit Group, and now we have better planning in the park and when the customer books and buys their experience, everything can be purchased in one checkout. Really everything!", says Therese Patriksson who is the hosting and marketing manager at Nordens Ark.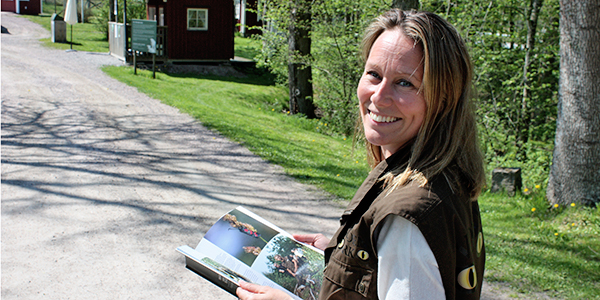 Shorter queues and better service
"There has been a nice flow in the park. Previously there were queues at different places, now it's much calmer and more pleasant for the guests. Even though we are back to the same number of visitors as before the pandemic," says Therese.
Historically, the entrance was a major bottleneck. Guests first had to choose tickets and pay for them at the Nordens Ark ticket office, then go to a gate and show them there. Sometimes, this was not that easy as the ticketing system and the gates did not always talk to each other.
Now the problems have been solved, both because guests have bought their entrance tickets in advance, but also because the cumbersome entrance procedure has been replaced by entrance hosts with scanning machines.
"Guests are much calmer now and the hosts can give tips and tell them about things that make their visit more enjoyable," says Therese. 
"Visit Group comes up with solutions where we've become blinkered"
Over the years, Nordens Ark has followed Visit Group's evolution towards delivering full-service systems for the hospitality industry.
"We get valuable solution suggestions where we've gone blinkered. Visit Group has full control of how all our technical systems talk to each other, while at the same time they are experts in their own technical systems. This allows us to feel safe and spend our time on other things," says Therese. 
At Visit Group, we are experts in the digital customer journey for the hospitality industry. In collaboration with Nordens Ark, the Day tours and Attractions team has developed systems with iTicket as the core of the solution. Want to know more about how we can make your customer journey easier?