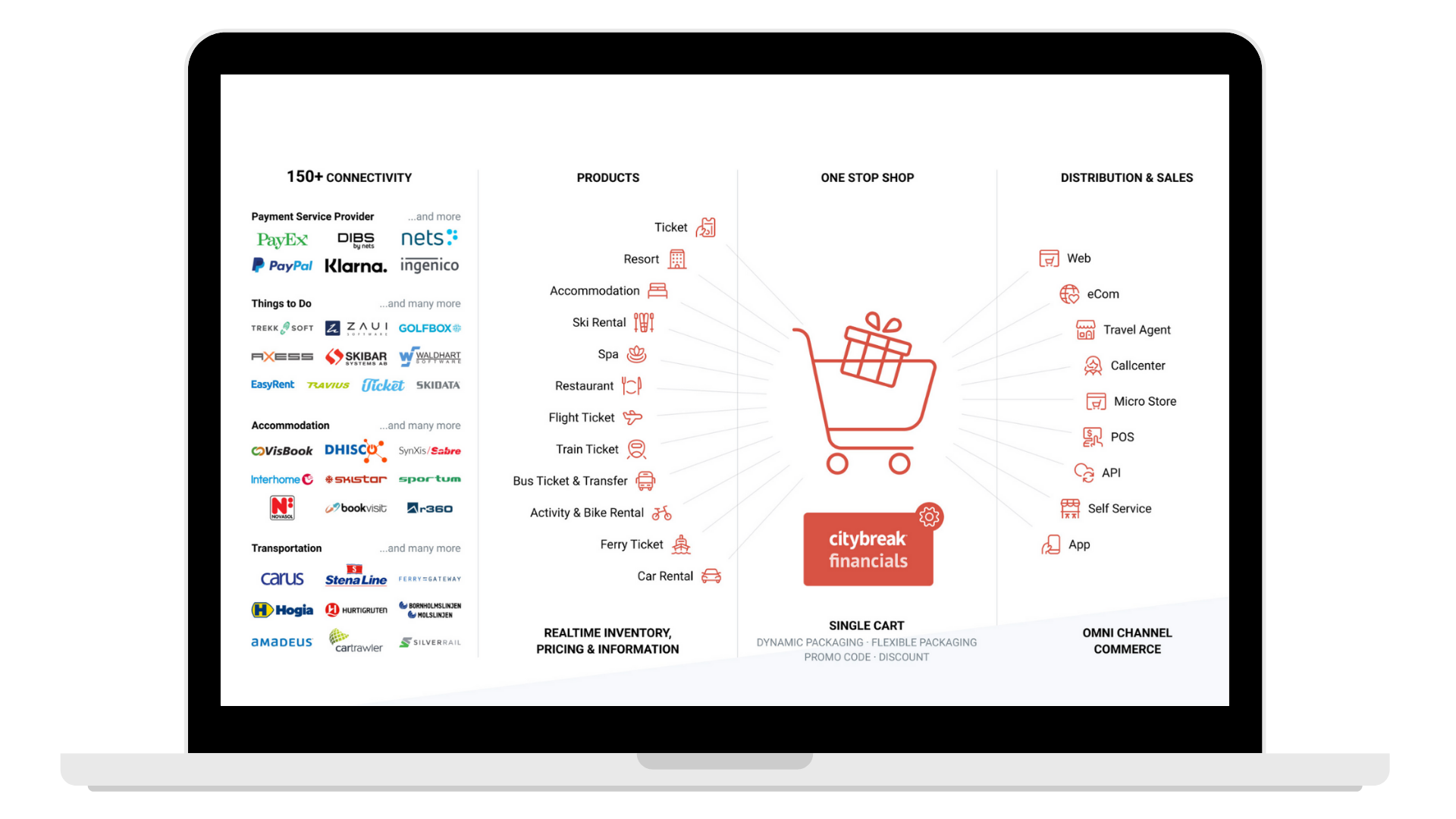 The all-in-one sales and distribution platform
Sell, package, and distribute without limits! Become a premium one-stop-shop and boost your revenue.
Customized e-commerce
One checkout in a fully customized e-commerce made for the tourism industry. Sell your own inventory or make product packaged together with your trusted partners. Lift-tickets, activities, hotel rooms, transportation – the sky is the limit!
Sales Agent Portal
Easy interface to let agents and professional bookers create experiences for your visitors. Of course, with all the same real-time inventory to optimize your workflow.
Product Information Management (PIM)
Manage, control, and distribute your product information, to create compelling product experiences for your customers – seamlessly integrated to your overall commerce.
Dynamic packaging
Give your customers the opportunity to take the drivers seat in their trip planning - with customized tour packages comprised of various inventories including hotels, flights, car rentals, attractions, and events.
Partner inventory
Sell true experiences and package your inventory alongside your partners. Everything in real-time.
Accounting
An automated accounting process that you can rely on, no matter the distribution channel, package or product.
Omni-channel distribution (CRS)
Think about your offer – we'll handle the rest. Commerce hub is the ultimate platform to get your experiences out there! Being able to distribute through various channels and to different targets is essential to reach potential visitors. You can specify products, quantities and prices that are accessible to a customer segment grouped in a distribution channel. A commerce solution that supports all major channel of distribution:
Call centers
Travel & Sales Agents
Web storefronts
Point of Sale (PoS)
API-connections
Partner widgets