Citybreak Release Notes 23 Mar 2022
Citybreak Booking Engine / Citybreak Online
We have rolled out our new basket widget to WebX customers. It is built on a modern technology and provides improved grouping possibilities and display of all available fee types. The new basket widget is of course fully responsive and has an updated design that matches our Citybreak Online for See & Do Products. We will roll out this new basket widgets to all customers soon, more information will follow.

 

We are now fully supporting events on Citybreak Online for See & Do Products. This means that we won't implement Citybreak Online for Events any longer and will start to migrate all customers that currently use the event guide to migrate them to Citybreak Online for See & Do Products. If you wish to be migrated first, please contact our customer success team.
An issue has been fixed that blocked users from changing occasions when a promo code was added in the activity widget.
We fixed an issue with Easy Access products of type "Other products" that had a duration of more than one day. These products displayed a wrong duration on MyPage.
We fixed an issue on the search widget where the search for accommodation packages did not provide any results. This is now fixed and accommodation packages are displayed via the Citybreak Online search widget.
It is now possible to activate "quick bookings" on Citybreak Online. This will enable end customers to make a booking by only providing an e-mail address, country and phone number. Please contact our customer success team if you wish to activate quick bookings. These quick bookings are also supported by MyPage and the end customer will be able to log on to administrate their booking via Citybreak MyPage.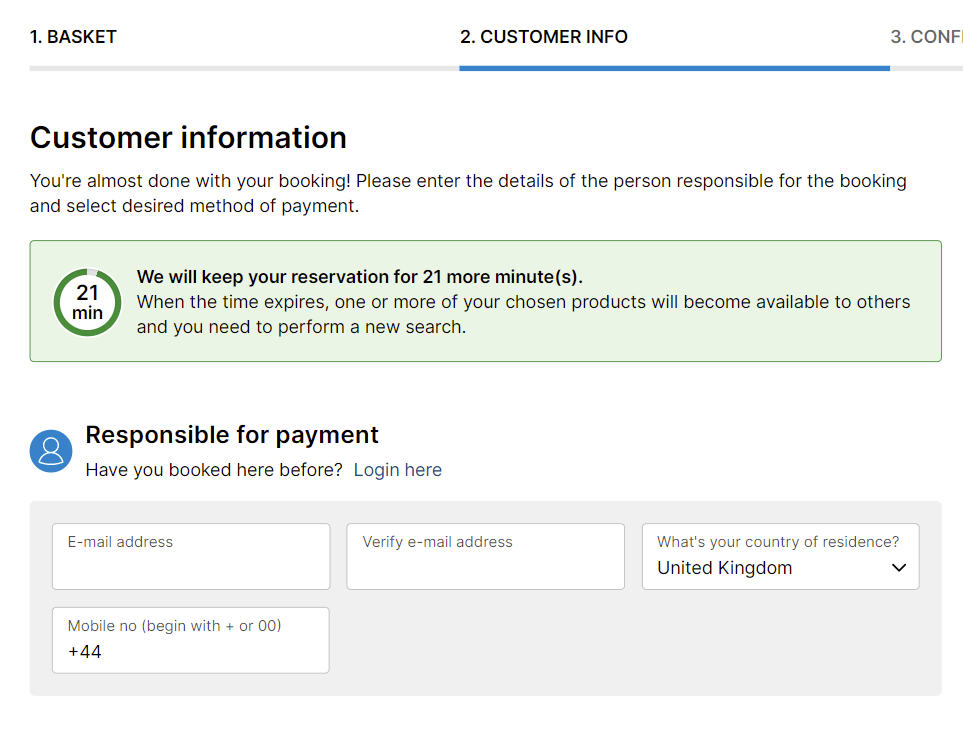 Citybreak Sales Agent
You can now lock a Sales Agent user to a certain Point of Sale. The user will then only be able to view bookings made on that Point of Sale.
Users that are locked to a certain Point of Sale will neither see the internal calendar.
When cancelling an ongoing booking, we no longer ask the Sales Agent user to provide a reason for the cancellation.
We fixed an issue where it was not possible to book golf tee times starting after a certain time of the day.
When viewing a booking on Sales Agent, it is now possible to generate a pdf-file for the external voucher. This makes it possible to send to your customer in case of lost booking documents.
We fixed an issue where cash payments weren't registered correctly on the payment overview in Sales Agent.
Integrations / API
In our new BookVisit - Citybreak integration, we now also load in content from the "search result text" field on room types and display it on the introduction field in Citybreak.
It is now possible to show or hide rate, discount or cancelation policy content from BookVisit.
We have increased the default value for maximum addons for external accommodation products from 9 to 50.
On the Citybreak Galaxy API we fixed an issue in the calendar availability call where for certain cabins, it was not possible to get availability that would exceed the original calendar search of 30 days.
In our Carus - Citybreak integration, it is now possible to select whether passport number and expiry date should be mandatory or optional.
WebX Stays
We have developed a multi-room booking flow for accommodation products. This enables the end-customer to add more than one room with a different room occupation (for example 1 double room plus 1 single room) in the same booking flow.