"We develop each other's ideas"
Reading time: 3 minutes
Read more about Visit Group's and Stromma's collaboration here, the text covers how:
Visit Group's custom solution optimizes Stromma's sales
Financial management has become smoother
Stromma and Visit Group support each other's business development
---
How Visit Group has helped Stromma with better sales and more efficient financial management.
Scandinavia's largest experience company Stromma is present in 18 European cities. Over the years, digital sales have been developed together with Visit Group - here Christine Vesterholm, Stromma's Head of Business Support, tells us about the collaboration.
Everyone sees the same capacity
Stromma's experiences are sold online, via outdoor sales agents, in ticket kiosks, by phone, by agents and in hotels. Historically, there were problems when matching sales - the systems didn't talk to each other. Today, all sales channels, own and retail, online and offline, are interconnected. With Visit Group's solution, everyone sees the same capacity.
"We can plan tours better and provide better service to our guests," says Christine. She also explains how Stromma's experiences are unique in several ways.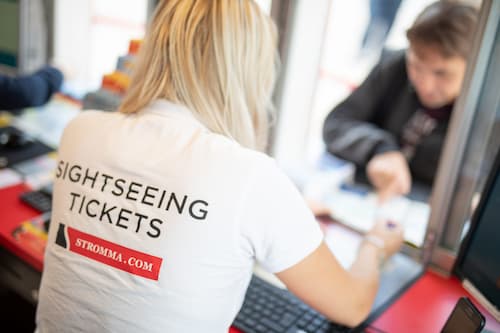 "The same tour offers several different experiences but can have different capacities, for example you can book a dinner cruise with pre-ordered food & beverage or a guided tour on the same departure, which Visit Group's solution handles well," says Christine.
Smoother financial management
Experiences are also unique in that they can include multiple VAT rates. It is important to use the correct VAT rate for us internally, for the customer and for the tax authorities.
"The dinner cruises are again a good example of the complexity of the experiences. There may be one VAT rate on travel and food, another on drinks with alcohol and one on drinks without alcohol. Now this is handled in a smooth way, with Visit Group's solution, which is very helpful in the finance department," says Christine.
Over the years, Stromma's needs have changed and Visit Group's solutions have evolved. Today, the collaboration takes place on a daily basis and Christine describes it as a partnership.
"We develop each other's ideas and activities, we like to say that Visit Group has almost become a part of Stromma," Christine concludes.
We at Visit Group are experts in the digital customer journey for the travel industry. In cooperation with Stromma, the "Day tours and Attractions" team has developed systems with iTicket as the core of the solution. Want to know more about how we can make your customer journey easier?